Welcome to Sobelle Productions.

Sobelle is currently involved in multiple theater projects in varying stages of development and production. There are often opportunities to join new Broadway, Off-Broadway or touring projects under Sobelle Productions. If you ever have questions about what is involved in investing in theatrical opportunities, please do not hesitate to contact me with your questions.

Sobelle Productions also provides consulting services in strategic management as well as entertainment marketing and promotions. Our clients are across all spectrums including theater, film, digital media and non-profit management.


THE STUNNING STAGE PRODUCTION OF AN AMERICAN IN PARIS IS NOW PLAYING AT THE PALACE THEATRE.
National Tour begins October 2016
Coming to London's West End Spring 2017
Highly acclaimed choreographer CHRISTOPHER WHEELDON directs a remarkable cast of singers, actors and dancers as they bring the magic and romance of Paris and the timeless songs of GEORGE GERSHWIN and IRA GERSHWIN into perfect harmony. AN AMERICAN IN PARIS features a book from Tony Award® nominee and Pulitzer Prize finalist, CRAIG LUCAS, sets and costumes by six-time Tony winner Bob Crowley and lighting by four-time Tony winner NATASHA KATZ.

PHOTO GALLERIES
Behind the scenes photos from the company of An American in Paris at the Chatelet Fall 2014.
Opening Night on Broadway, April 12, 2015
Cast album recording session, April 22, 2015


Get tickets now at Ticketmaster

Visit the official website at AnAmericaninParisBroadway.com.




"People think they want the whole truth. They're far happier with only

as much as they can forgive." - Laurence Dunne, THE REPORT
Based on true events, THE REPORT, by Martin Casella (based on the novel by Jessica Frances Kane) is both a stunning expose of an unforgivable cover-up by the British government, and a spellbinding mystery in the vein of An Inspector Calls.
During WWII, on a March night in 1943 on the steps of the Bethnal Green Tube station, 173 people died in a crowd seeking shelter from another air raid…though not a single bomb was dropped. When the devastated neighborhood demands a report, the job falls to magistrate Laurence Dunne. As Dunne investigates, he finds the truth to be precarious, even damaging and England's War Office decides to keep the details of the tragic events a secret. Several decades later a young BBC documentarian keeps prodding until he discovers the truth - forcing Dunne to consider whether he chose the right course 30 years earlier.
Set against the backdrop of a city overflowing with refugees and under the constant strife of war (not unlike Europe today), THE REPORT is a compelling commentary on the impact of tragedy on the human psyche - the need to understand, the need to blame - and the reverberations through the generations that follow.
We are now in discussions with theaters regarding a future co-production leading to a national tour of BEND IN THE ROAD: The Anne of Green Gables Musical during the 2017-2018 theater season. Stay tuned for updates.

If you have a favorite local or regional theater where you would like to see this wonderful musical adaptation of "Anne of Green Gables" live on stage, please feel free to contact us with recommendations.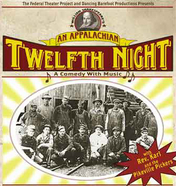 Robert William's remarkable and rollicking adaptation of Shakespeare's only play with music. AN APPALACHIAN TWELFTH NIGHT in an isolated coal mining town in Kentucky in the WPA era of the late 1930's, the original Shakespearean language is perfectly suited to the Appalachian dialect. And the added score of foot-stomping Appalachian classics (drawn from the traditional folk music handed down by the Elizabethan ancestors of the mountain dwellers) makes for a magical fun-filled evening at the theater.

The play was produced several years ago in Los Angeles to rave reviews. In partnership with 134 Productions, we are now looking to mount it in some regional theaters to determine viability for bringing it to New York or on some kind of small tour.

Looking for a topical comedy to stage during the Presidential election cycle? This hilarious play, by Holland Taylor, about the famed Texas Governor Ann Richards is a one woman tour-de-force with a single unit set. Economical and a crowd pleaser.

You can next see Holland Taylor in her Tony nominated performance this Spring at the Zack Theater in Austin.
Work continues on the pilot of "The LeVays" -- the working title for the series in development at HBO based on STICK FLY. Author Lydia Diamond is writing episode formats. Investors on the Broadway production derive income through the production contract with Lydia Diamond for the underlying rights of the play. The new series will be based on the wonderful characters in our contemporary play about race, class and family.

This wonderful comedy with tons of heart, by Martin Casella, is about five Irish-American guys who meet in the basement of a Brooklyn Church each week in a support group because all of them share the same issue -- a really tiny penis.

We produced the play Off-Broadway in 2010 to rave reviews and it was immediately published by Samuel French. Licensed productions continue to be performed across the country with rave reviews wherever it is staged.
Internationally the play has performed to sold out audiences in Bratislava, Prague and the UK. Next up - Brazil.
THE IRISH CURSE is an hysterical and fascinating exploration of body image and self-esteem. Audiences prove again and again this topic is shared - and in this case the exploration is enjoyed - by men and women alike.